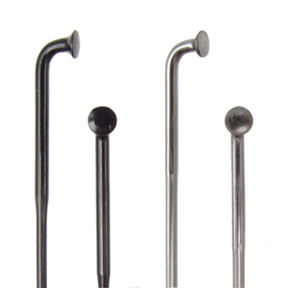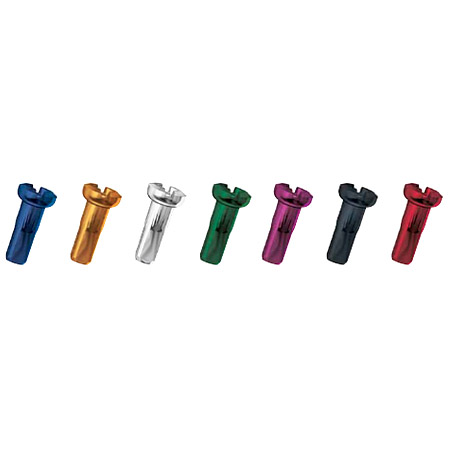 Available Options
Models Laser, D-Light, Race, Strong
Weight (gm)

Laser

D-Light

Race

Strong

26"
650b
29"

4.4
4.6
4.8


5
5.2
5.4

5.7
5.9
6.1

7.6
7.8
8.0
Spoke Colors Black, Silver
Nipple Colors Brass: Black and Silver.
Aluminum: Black, Red, Blue, Green, Gold, Orange, Violet
Sapim of Belgium Custom Bike Wheel Spokes & Nipples
Dave Says
Dave's Wheels has used Sapim spokes since 1997 when they originally came out with the venerated CX-ray lightweight bladed design. Being a Belgian company, the spokes are very popular in the european pelotons, however they are original equipment on many high end manufactured wheels (Easton, for example).
Sapim spokes are made of Sanvik 302 stainless steel (DT also uses this alloy) and feature long butted sections for low weight, in their variety of gauges. We have experienced complete reliability and performance with Sapim, when the spokes are fitted correctly to rims (alignment) and hubs (countersink), and verify these values with each wheel.
Sapim nipples are available in brass as black or silver and anodized colors for aluminum (black, red, blue, green, gold, orange, or violet). Sapim nipples feature their special "poly-axial" shaped head, that works as a ball-joint interface with the rim in order to improve the alignment of the spoke, (compared to the simple tapered design of most nipples). The aluminum nipples are made of 7075-T6 high strength alloy and receive a special coating to reduce the fricition coefficent, making adjustments easier to accomplish. Also, the 14 mm length allows a more secure contact for the wrench.