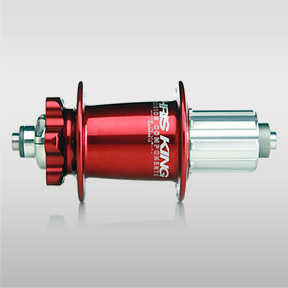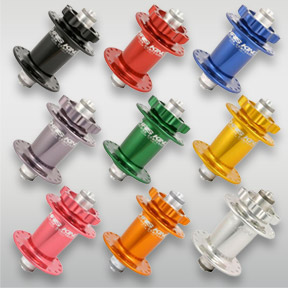 Available Options
Front

Weight

9 mm QR
15 mm QR
20 mm

171 gm
171 gm
211 gm
Rear

Weight

10 mm QR
142 mm x 12 mm

336 gm
336 gm
Spokes 32
Colors Black, Red, Blue, Pewter, Green, Gold, Violet, Mango, Silver
Chris King Bike Wheel Hubs
Dave Says
Made in the USA
The Chris King name has been synonymous with innovative design and quality in the bicycle industry for well over twenty years. More than reliability and function, the King hubs exhibit "art in engineering". From the unique "ring-drive" 72 point ratchet to the proprietary angular contact hub-shell bearings, Chris King has raised the bar for other hub makers to meet.
The King philosophy is longevity, and with the proper maintenance, the bearings will last indefinitely, being able to adjust for wear. The hubs (and even our wheels) will out last the bicycles themselves.
The other aspect that is immediately noticeable is the beauty of the hubs, with enough color options to satisfy any taste from the understated to the flamboyant.
Chris King hubs would be ideal for a broad range of bikes and riders with their strength, beauty, and performance.