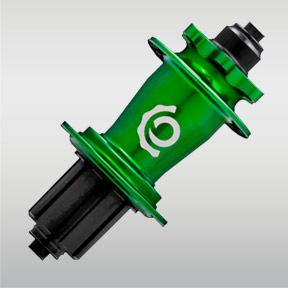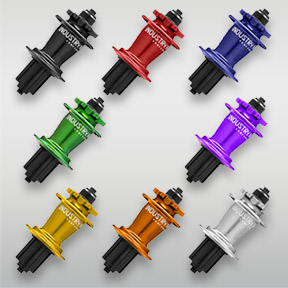 Available Options
Front

Weight

9 mm QR
15 mm QR
20 mm

152 gm
150 gm
145 gm
Rear

Weight

10 mm QR
142 mm x 12 mm

275 gm
270 gm
Spokes 32
Colors Black, Blue, Red, Green, Violet, Gold, Orange, Silver
Industry Nine "Torch" Series Hub
Dave Says
Made in the USA
It's hard to imagine that a wheelset for $790.00 could be thought of as "best bang for the buck", but when you are talking about the high points of performance, it seems appropriate. Weight, appearance, strength, ratcheting speed and smoothness, the Torch has them covered.
150 grams front and 270 grams rear are good figures for XC, as far as weight is concerned, but weight is only the start. The axles are large enough to be compatible with all the major forks and frames. High quality bearings and machining tolerances ensure smooth and reliable functioning over the long haul. Ratcheting speed may not have previously concerned many riders, but any one will appreciate the silky smooth and immediate response of the 3 degree/120-point ratchet design, it even sounds good! The unique shape and assortment of super deep anodized colors set this hubset apart from the rest, even standing still.
Considering that all these features/benefits were never available from a single hubset before, one would expect to pay the highest price, but the Torch is less expensive than many, and made in the USA to boot.